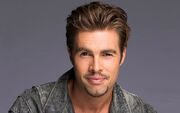 BiographyEdit
Alexander Bruszt was born in Sydney, Australia and began acting at the age of 16. After a few short films Bruszt was cast on the popular Australian soap opera "Home and Away." From there he took on various hosting roles, including "Super Simpsons Live" on Foxtel's FOX8. He has also appeared in more than 100 commercials.
Bruszt was cast on "Days of our Lives" as the rugged Dr. Fynn Thompson after winning a Search for a Star contest in partnership with Australia's Arena TV, a division of Foxtel in the spring of 2015. The original prize was for a 13-week contract but it was extended immediately. Bruszt beat out fellow Aussies Tom Dalzell and Andrew Steel for the part.
Ad blocker interference detected!
Wikia is a free-to-use site that makes money from advertising. We have a modified experience for viewers using ad blockers

Wikia is not accessible if you've made further modifications. Remove the custom ad blocker rule(s) and the page will load as expected.