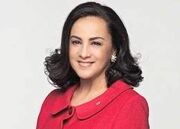 Alma Delfina (born Alma Delfina Martínez Ortega on November 5, 1954 in Camargo, Chihuahua, Mexico) is a Mexican actress.
Acting careerEdit
Sister of the director Gonzalo Martinez Ortega, writer Mario Iván Martínez and the actresses Socorro Bonilla and Evangelina Martínez. Aunt of the also actors Roberto Sosa, Evangelina Sosa and Mario Iván Martínez.
Started her career in 1974 in the telenovela Mundo de juguete. In the 1970s she was active principally on movies. In the 1980s acted in soap operas like Guadalupe (1984), Vanessa (1982) with Lucía Méndez, Chispita (1993), Vivir un poco (1985) with Angelica Aragón and Marionetas (1987). In the 1990s starred Cañaveral de Pasiones (1996) and Pueblo chico, infierno grande with Verónica Castro in the role of the evil prostitute La Beltraneja. In 1999 she moved to the United States. Starred in TV series like ER and CSI: Miami (2002). In the 2005 she returns to the telenovelas.
In 2016, it was announced that she would join the NBC soap opera, Days of Our Lives as Adrianna Hernandez.
Ad blocker interference detected!
Wikia is a free-to-use site that makes money from advertising. We have a modified experience for viewers using ad blockers

Wikia is not accessible if you've made further modifications. Remove the custom ad blocker rule(s) and the page will load as expected.