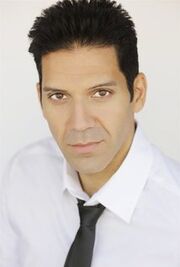 Andy Demetrio is a British Film, Television, Theatre Actor and Screenplay Writer. Notable credits include: The Last Ship (Michael Bay), Star Trek: Into Darkness (JJ Abrams), Nowhere Girl (Jed Rigney). His stand out role as Terry in "The Full English," an award winning TV series, won him the outstanding lead actor award at the LA Web Festival 2014. Repeatedly praised for his acclaimed leading role as "Papas" in Ilias Pilastiros' story of a Priest coming to terms with a troubled past. A series of well received strong lead roles include the suave and narcissistic Ray in "The Men's Room" and the tenacious detective Dave Kugan in the UK's number one play adaptation of Christopher McQuarrie's "The Usual Suspects". Andy played the leading role of Elvis in Bill Kenwright's "Elvis The Musical" UK tour as well as in London's prestigious West End. Andy Demetrio was born in London, England to Greek Cypriot Immigrants Michael Demetriou and Christine Marcou. He is the youngest of four brothers Theo, Dino and Mario who hail from Muswell Hill, North London. They were raised in a very traditional Greek Orthodox Christian household where family values and religion played a big role. Demetrio recognized his passion for acting as a young ambitious child and with the support of his family, auditioned for and was accepted into the most recognized and distinguished Italia Conti academy of Theatre Arts at age eleven. He went on to study method acting at the famous Lee Strasberg Theatre and film Institute as well as the Meisner technique. Andy was quickly praised and acknowledged for his strong, unique and passionate talents on stage and on film, having explored various acting techniques; he is noticeably recognized for his expert balance of performance delivery and smooth transitioning from stage to film.
In 2017 he joined the NBC soap opera Days of Our Lives as Milos.
Ad blocker interference detected!
Wikia is a free-to-use site that makes money from advertising. We have a modified experience for viewers using ad blockers

Wikia is not accessible if you've made further modifications. Remove the custom ad blocker rule(s) and the page will load as expected.