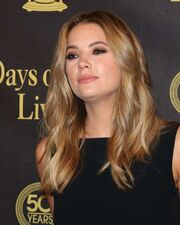 Ashley Victoria Benson (born December 18, 1989) is an American actress, dancer and model, known for her role as Hanna Marin on the mystery-thriller television series Pretty Little Liars. She has also portrayed Abigail Deveraux on the NBC soap opera Days of Our Lives, Mia Torcoletti on the supernatural television series Eastwick, and Brit in the 2012 crime thriller film Spring Breakers.
Ad blocker interference detected!
Wikia is a free-to-use site that makes money from advertising. We have a modified experience for viewers using ad blockers

Wikia is not accessible if you've made further modifications. Remove the custom ad blocker rule(s) and the page will load as expected.