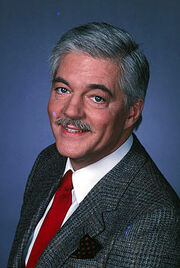 William "Bill" Foster Hayes III (born June 5, 1925 in Harvey, Illinois) is an American dramatic actor and former Billboard Hot 100 #1 recording artist. Following a career as a musician, he achieved fame as an actor when he began playing Doug Williams on NBC's daytime serial Days of Our Lives in 1970. Hayes originated the character of Doug and is the only actor to ever play that role. He still appears in the same role on Days of Our Lives.
Hayes was a singer on the Sid Caesar and Imogene Coca variety show Your Show of Shows in the early 1950s. During the Davy Crockett craze in 1955, three recorded versions of the Ballad of Davy Crockett were in the top 30. Hayes' version was the most popular, and reached #1 on the Billboard Hot 100 for five weeks. It sold over two million copies, and was awarded a gold disc. He also starred on Broadway in Rodgers and Hammerstein's Me and Juliet (1953). He had other small hits in the 1950s including "The Berry Tree" and covers of "High Noon" and "Wringle, Wrangle". "Wringle Wrangle" was his only other Hot 100 hit, reaching #33 in 1957.
His singing career also found its way to his storyline on Days of Our Lives; in the story, Doug was introduced as a convict who was also a lounge singer.
The character of Doug returned in 1986 and 1987, as well as 1993 and 1996. Most recently, he has been on the show since 1999. His character was killed off in the spring of 2004 by Dr. Marlena Evans (to reduce the show's budget). In an elaborate plot hatched by head writer James E. Reilly, Doug Williams turned up alive on a tropical island and went home to his wife.
He and his wife Susan have supported the West Texas Rehab Center, hosting the annual telethon in Abilene, Texas.
Personal lifeEdit
Hayes graduated from DePauw University with a double major in music and English and became a member of the Lambda Chi Alpha fraternity.
He has been married to Days of our Lives co-star Susan Seaforth since 1974. His character's partnership with Seaforth's character, Julie, is widely considered to be the first supercoupling on the American daytime serials.[citation needed]
Their relationship was so popular that they were featured on the front page of Time magazine in 1975, the first and only soap opera stars to hold that distinction to date.
In 2005, the couple published their joint autobiography, Like Sands Through the Hourglass.
Hayes was previously married to Mary Hobbs from 1947 to 1969; they share five children.
Ad blocker interference detected!
Wikia is a free-to-use site that makes money from advertising. We have a modified experience for viewers using ad blockers

Wikia is not accessible if you've made further modifications. Remove the custom ad blocker rule(s) and the page will load as expected.