Brady Black
Talk

0
259pages on
this wiki
Brady Black
Eric Martsolf as Brady Black
Days of our Lives
Portrayed by
Kyle Lowder (2000–05)
Eric Martsolf (2008—)
Duration
1992–2005, 2008—
First appearance
May 19, 1992
Profile
Fullname
Brady Victor Black (full name)
Alias(es)
Brady Kiriakis
Gender
Male
Brady Victor Black is a fictional character on the soap opera Days of our Lives. He is currently played by Eric Martsolf, who took over the role in 2008.
Backstory
Edit
Brady was raised during the first years of his life by his widowed father, John Black. After the death of Brady's mother, John Black embarks on a tempestuous affair with his former wife, Marlena Evans, which results in the birth of Brady's sister, Belle, named after his mother, Isabella Toscano. Roman Brady divorces Marlena after discovering her affair with John. Though John by then is involved in a troubled relationship with the duplicitous Kristen Blake, John and Marlena opt to raise Brady and Belle together. Kristen's lies are eventually exposed, and John and Marlena happily remarry. Despite a happy childhood, Brady becomes bitterly resentful toward Marlena, the only mother he has ever known. Brady is the ex-fiancee of the deceased Madison James.
The Kyle Lowder Years (2000-2005)
Edit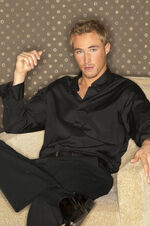 Brady returns to Salem as a spoiled, disrespectful teenaged loner who lashes out at everyone. As a result, he is distrusted by many, including his stepmother Marlena, as well as his uncle, Philip Kiriakis, who considers him a freak. However, Chloe Lane, Philip's girlfriend, sees a glimmer of her once ostracized-self in Brady and develops a friendship with him which eventually turns into something more. The couple marry in 2005, and move to Vienna. By then, Brady had long-since resolved his animosity toward his step-mother, Marlena, becomes a loving son and brother, as well as a responsible, promising executive in his father's fashion and publishing company, Basic Black.
The Eric Martsolf Years (2008-Present)
Edit
Leaving the safety of Salem for Vienna in 2005 however, Brady becomes addicted to drugs. Blaming Chloe for his addiction, Victor kidnaps Brady and places him in a drug rehabilitation clinic. Brady blames Chloe for his addiction and subsequently files for divorce.
Brady returns to Salem in November 2008 after beating his addiction. Divorced from Chloe Lane, he comes back to talk things out with her and reunite with his troubled family. Brady and Chloe eventually come to terms with the end of their marriage and decide to remain friends. Brady sensitively deals with a father who does not remember him. Supporting Marlena in her quest to help John Black regain his memory, Brady foils the plot for revenge leveled against his stepmother, and masterminded by none other than his father's therapist, Dr. Charlotte Taylor.
Brady also makes peace with Nicole, an old flame and the former wife of his grandfather, Victor. Pregnant with EJ DiMera's child, and much to Brady's initial dismay, Nicole also lives at DiMera mansion with Brady and EJ.
In 2009, Brady and Nicole become best friends, even as he develops a relationship with Arianna Hernandez
Though Nicole miscarries EJ's baby, Brady helps her keep the miscarriage a secret, along with the subsequent lies necessary to cover the initial lie, such as adopting a baby from Mia.However, the truth is soon exposed about Nicole stealing Sydney, which makes his stepsister, Sami, as well as EJ, angry at him for keeping the secret. He gets mad at Nicole for doing this, and she goes to prison. Upon returning to Salem, Nicole manages to steal Brady from his fiance by setting up Arianna, making it look like she was responsible for the drug cartels coming into Salem. Brady is mad at Arianna, but then finds out someone set her up, and vows to destroy whoever did it, making Nicole anxious.
When the truth is exposed, Brady dumps Nicole, though he doesn't reconcile with Arianna because she has fallen in love with EJ, her close friend. Eventually, Arianna dies, killed by the leader of the drug cartel so she wouldn't send him to prison. Brady mourns Arianna's death, but then he decides to get back together with Nicole when she apologizes for what she did to Arianna. However, Nicole leaves Brady in order to marry EJ and have contact with Johnny and Sydney, which makes Brady shun her and get close to her ostracized sister, Taylor, who has recently moved into Salem.
Soon, Nicole and Brady make up, and Nicole ends up falling for EJ, who has developed feelings for her as well. But EJ and Taylor fall in love and have an affair. Nicole blackmails EJ to remain married to her, but eventually decides to divorce him so he can marry Taylor, since he only loves Taylor. Nicole reunites with Brady, but his closeness with Taylor, in which they get drunk and kiss, (now broken up from EJ due to his schemes) makes her realize that they don't belong together. Nicole decides to be an independent woman, but eventually falls for EJ and remains married to him. Brady soon becomes attracted to his business partner, Madison James, who has recently moved to Salem. He is the father of Mia McCormick (whose middle name is Marie), who he fathered with Nicole while they were teenagers.
Relationships
Edit
Chloe Lane (ex-wife, because she got him drunk and addicted to drugs)
Nicole DiMera (ex-girlfriend, because she wanted to be independent and still loved EJ)
Madison James (ex-fiancee; because she died in an explosion)
Arianna Hernandez (ex-fiancee; deceased)
Theresa Donovan (ex-lover, because of John's accident)