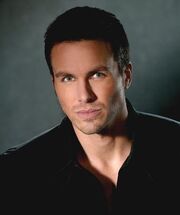 Ian Brody Hutzler (born April 20, 1971) is an American actor primarily known for his roles on soap operas.
Hutzler played the role of Zachary Smith on Guiding Light from 1996–1997 and the role of Cody Dixon on The Young and the Restless from 1999-2004 before moving on to Days of Our Lives, where he played the role of Patrick Lockhart from 2004–2007. He has also made several television guest appearances on shows, such as The WB series Charmed, Angel and the short-lived 2000 NBC series, Titans. He also starred in the 2008 film Green Flash, along with Torrey DeVitto and Paul Wesley. In 2011, he played Navy Lieutenant Michael Jensen in NCIS. In 2012 he played Jason Sheridan in Ringer and 2014 in Mega Shark vs. Kolossus.
Ad blocker interference detected!
Wikia is a free-to-use site that makes money from advertising. We have a modified experience for viewers using ad blockers

Wikia is not accessible if you've made further modifications. Remove the custom ad blocker rule(s) and the page will load as expected.