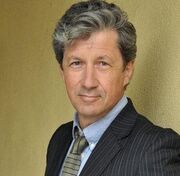 Charles George Patrick Shaughnessy, 5th Baron Shaughnessy (born 9 February 1955), or simply known as Charles Shaughnessy, is a British peer and television, theatre and film actor. He is known for his roles on American television, as Shane Donovan on the soap opera Days of Our Lives and as Maxwell Sheffield on the sitcom The Nanny. Along with his brother David Shaughnessy and Ophelia Soumekh he is a partner in 3S Media Solutions Inc.
Ad blocker interference detected!
Wikia is a free-to-use site that makes money from advertising. We have a modified experience for viewers using ad blockers

Wikia is not accessible if you've made further modifications. Remove the custom ad blocker rule(s) and the page will load as expected.