Colleen Brady

Shirley Jones as Colleen Brady

First Appearance

June 2007 (in flashbacks)

January 31, 2008

Last Appearance

February 7, 2008 (death)

Cause/Reason

died of natural causes

Portrayed by

Alison Sweeney (2007; in flashbacks/visions)

Shirley Jones (2008)
Colleen Brady is the sister of Shawn Brady Sr.. In her younger years, she became involved with Santo DiMera, Stefano's father, and secretly had his child. That child would grow up to become the man known as John Black.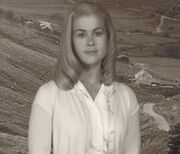 Ad blocker interference detected!
Wikia is a free-to-use site that makes money from advertising. We have a modified experience for viewers using ad blockers

Wikia is not accessible if you've made further modifications. Remove the custom ad blocker rule(s) and the page will load as expected.