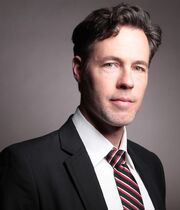 He moved to Los Angeles from Seattle after co-founding the critically acclaimed "Immediate Theatre Company" and graduating from the University of Washington's School of Drama. Worked and toured with many of Seattle's fringe and equity theaters before moving to Los Angeles.
Has enjoyed a successful career in TV, film, commercial and voice over work. Has appeared in shows such as Modern Family, NCIS, SCI, iCarly and a recurring role in the sitcom Twins. Craig had a starring role in the feature film "Playing House" shot in his home town of Houston Texas is 2010. He is also founding partner of the boutique production company Left Right Seven and is now working on two screenplays with his writing partners.
in 2016 he joined the NBC soap opera Days of Our Lives as Myron Raditz.
Ad blocker interference detected!
Wikia is a free-to-use site that makes money from advertising. We have a modified experience for viewers using ad blockers

Wikia is not accessible if you've made further modifications. Remove the custom ad blocker rule(s) and the page will load as expected.