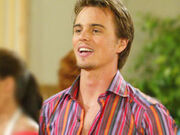 Darin Lee Brooks (born May 27, 1984) is an American actor. He is best known for portraying Max Brady on the NBC drama series Days of Our Lives, Alex Moran on the Spike TV series Blue Mountain State, and Wyatt Fuller on the CBS soap opera, The Bold and the Beautiful.
Ad blocker interference detected!
Wikia is a free-to-use site that makes money from advertising. We have a modified experience for viewers using ad blockers

Wikia is not accessible if you've made further modifications. Remove the custom ad blocker rule(s) and the page will load as expected.