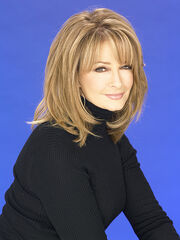 Deidre Ann Hall (born October 31, 1947) is an American actress best known for her portrayal of Dr. Marlena Evans on NBC's daytime drama Days of Our Lives, which she has played for 40 years.
Personal LifeEdit
Hall has won many awards for her portrayal of Marlena. Deidre won two Best Actress Soapy Awards in 1982 and 1983. She has won three Soap Opera Digest Awards for Outstanding Lead Actress in 1984, 1985, and 1995. Deidre was the first recipient of the Outstanding Contribution by an Actress/Actor Award in 1986. Hall also received an award with Drake Hogestyn in 2005 for Favorite Couple: John and Marlena. Deidre was also voted Best Actress twice by the Soap Opera Update Awards in 1994 and 1995. She has been nominated for a Daytime Emmy three times, but has won.
Ad blocker interference detected!
Wikia is a free-to-use site that makes money from advertising. We have a modified experience for viewers using ad blockers

Wikia is not accessible if you've made further modifications. Remove the custom ad blocker rule(s) and the page will load as expected.