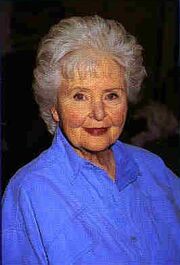 Frances Reid (December 9, 1914 – February 3, 2010), born as Anna May Priest was an American dramatic actress.
Although she starred in many productions, she is best known for her portrayal of Alice Horton on the NBC daytime soap opera Days of Our Lives from its debut in November 1965 until 2007. At the time of her death, she ranked fifth on the all-time list of longest-serving soap opera actors in the United States.
Ad blocker interference detected!
Wikia is a free-to-use site that makes money from advertising. We have a modified experience for viewers using ad blockers

Wikia is not accessible if you've made further modifications. Remove the custom ad blocker rule(s) and the page will load as expected.