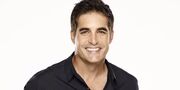 Galen Laius Gering (born February 13, 1971) is an American actor most known for his portrayal of characters on daytime soap operas. He plays the role of Rafe Hernandez on the long-running NBC soap opera Days of Our Lives. Prior to his current role, he acted on the NBC daytime soap opera Passions.
Personal LifeEdit
Gering was born Galen Laius Gering in Los Angeles, California, to Alan Gering and Michele de Oñate, a renowned west coast artist. He is of Russian Jewish descent on his father's side and Basque on his mother's (his great-grandfather was a Basque immigrant). He has an older sister, Charissa. Gering was close to his grandmother, who was also an artist.
At the age of 18, Gering moved to New York City to start a modeling career and finished high school remotely. He traveled Europe as a model before attending New York University for a year. Gering finished college at the University of Miami where he studied creative writing and film.
Ad blocker interference detected!
Wikia is a free-to-use site that makes money from advertising. We have a modified experience for viewers using ad blockers

Wikia is not accessible if you've made further modifications. Remove the custom ad blocker rule(s) and the page will load as expected.