The 
Horton family 
is an original and core fictional family on the NBC soap opera 
Days of Our Lives
, featured continuously since the series debut episode first-run November 8, 1965. The ensamble is created around the marriage, children, and family of 
Tom Horton
 and his wife 
Alice
. Promietly a family of Doctors, the Hortons have branched out to include Lawyers, Journalists, Police officers and more. along with the 
Brady family
, the Hortons are one of the two central families on the show.
This is a list of  all the known Horton family members, both past and present, deceased and living. Characters still presently on Days of our Lives are bolded, characters who are members of the family through marriage only are italicized. Dates of birth as those as seen on screen and do not necessarily reflect the portrayed age at any given time.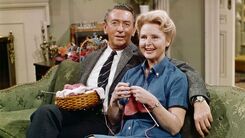 First generation 
William Horton, I (deceased)

Adelaide Horton (deceased)

Sid Grayson (deceased)

Abigail Garyson (deceased)
Second generation
Third generation
Fourth generation
Fifth generation
'​'Sixth generation
Ad blocker interference detected!
Wikia is a free-to-use site that makes money from advertising. We have a modified experience for viewers using ad blockers

Wikia is not accessible if you've made further modifications. Remove the custom ad blocker rule(s) and the page will load as expected.