Ivy Selejko

Holly Gagnier as Ivy Selejko

First Appearance

1985

Last Appearance

Feb 1987

Cause/Reason

Left Town

Portrayed by

Holly Gagnier (1985-1987)
Ivy Selejko was the ex-wife of Pete Jannings, and father to his child Charles Peter Jannings. When her relationship with Pete ended, Ivy turned to close friend Mike Horton for comfort. Mike and Ivy decided to give dating a shot and even slept together, though they ultimately realized that they made better friends than lovers. Ivy wasn't over her feelings for Pete and Mike wasn't over his feelings for Robin Jacobs either. Ivy left Salem in February of 1987 with her son Charlie.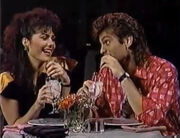 Ad blocker interference detected!
Wikia is a free-to-use site that makes money from advertising. We have a modified experience for viewers using ad blockers

Wikia is not accessible if you've made further modifications. Remove the custom ad blocker rule(s) and the page will load as expected.