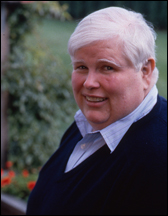 James E. Reilly (July 29, 1948 – October 12, 2008) was an American soap opera writer. Known for his work as the head writer of NBC's Days of Our Lives and creator/head writer of Passions, Reilly won a Daytime Emmy Award for Outstanding Drama Series Writing as co-head writer for Guiding Light in 1993.
Reilly died suddenly in October 2008 while recovering from cardiac surgery.
Ad blocker interference detected!
Wikia is a free-to-use site that makes money from advertising. We have a modified experience for viewers using ad blockers

Wikia is not accessible if you've made further modifications. Remove the custom ad blocker rule(s) and the page will load as expected.