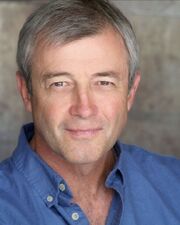 James Christopher Read (born July 31, 1953) is an American actor, best known for his role of George Hazard in the North and South television miniseries.
Early lifeEdit
Read was born in Buffalo, New York. He started acting as a student of law at the University of Oregon where he graduated in 1976. He studied acting in New York and then did several off Broadway and regional theatres such as The Denver Center Theatre Company, where he had a couple of leading roles and spent three seasons. In 1998, he earned his Masters Degree in psychology from Pepperdine University.
Read is best known for his role as George Hazard in the three North and South TV miniseries (1985, 1986 and 1994) based on the John Jakes trilogy of novels of the same name (his co-star, Patrick Swayze, taught him how to ride a horse), and for his co-starring role in the movie Beaches.
He had a recurring role on The WB series Charmed as Victor Bennett and was also a regular during the first season of Remington Steele. Recently, he could be seen as Ken Davis in the ABC family drama Wildfire and as ambassador Franklin Fairchild in 2010 television series Persons Unknown. In 2008, he directed an episode of "Wildfire". In 2009, he performed in "Better Angels" as Abraham Lincoln at the Colony Theatre in Burbank, California. Since 2014, he has played the role of drug lord Clyde Weston on the soap opera Days of Our Lives.
Ad blocker interference detected!
Wikia is a free-to-use site that makes money from advertising. We have a modified experience for viewers using ad blockers

Wikia is not accessible if you've made further modifications. Remove the custom ad blocker rule(s) and the page will load as expected.