Jessica Blake
Jean Bruce Scott as Jessica Blake
Portrayed by
Jean Bruce Scott (1980-82, 2012)
First appearance
1980
Last appearance
2012
Cause/reason
Left Town
Profile

Jessica Blake Fallon is the daughter of Marie Horton and Alex Marshall. She is the mother of Nick Fallon.
Jessica came to Salem and applied for a student nursing position. She began dating Joshua Fallon and was legally adopted by Alex Marshall, who eventually told her he was her biological father. Jessica hate her mother Marie Horton and ran away to join a convent, but was turned down when Marie talked with the Mother Supperior.
Jessica suffered from Dissociative Identity Disorder and her alter Angel started seeing Jake Kosnitchek, while her altar Angelique also terrorized her mother Marie Horton. Angel and Jake eloped to get married, but Marie stopped the ceremony and Jessica was hospitalized. She broke it off with Jake and got engaged to Joshua and they left Salem.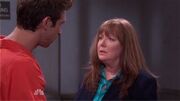 Offscreen, they had a son named
Nick
who came to Salem without his parents in 2006. In 2012, Jessica came to Salem to see Nick, who was in prison for murder, and was getting paroled. Nick was put on probation and choice to serve out his probation in Salem, so Jessica left Salem alone. In 2014, Jessica received horrible news that Nick had been murdered, and
Julie Olson Williams
delivered Nick's body to her and Joshua, so they could bury him. Nick's murderer,
Gabi Hernandez
, accepted a plea deal and Jessica agreed to it, not wanting the heartache of a trial.