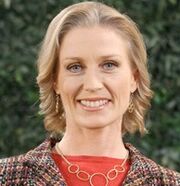 Jessica Ines Tuck (born February 19, 1963) is an American actress, best known for her performances on television as Megan Gordon Harrison on the ABC soap opera One Life to Live, Gillian Gray in the CBS drama series Judging Amy, and as Nan Flanagan on the HBO series, True Blood. She also appeared on the NBC soap opera Days of Our Lives as Madeline Peterson Woods.
Ad blocker interference detected!
Wikia is a free-to-use site that makes money from advertising. We have a modified experience for viewers using ad blockers

Wikia is not accessible if you've made further modifications. Remove the custom ad blocker rule(s) and the page will load as expected.