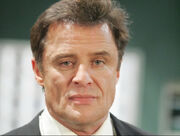 Joseph Edward Penny Jr. (born 24 June 1956) is an English-born American actor best known for his roles as Nick Ryder on the detective series Riptide from 1984–86, and as Jake Styles in the CBS television series Jake and the Fatman from 1987–92.
In 2008 Penny landed a recurring role on the NBC soap opera Days of Our Lives as Martino Vitali, the father of mafia princess Ava Vitali for 6 episodes.
Ad blocker interference detected!
Wikia is a free-to-use site that makes money from advertising. We have a modified experience for viewers using ad blockers

Wikia is not accessible if you've made further modifications. Remove the custom ad blocker rule(s) and the page will load as expected.