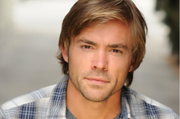 John-Paul Lavoisier (born March 12, 1980) is an American actor.
Lavoisier is known for his role as Rex Balsom on the ABC soap opera, One Life to Live, Portraying that character from 2002 to 2012. During that same year, he also appeared in the horror movie Wolves of Wall Street. He is a member of the advisory board of theatre production company Streetlight Productions, Inc, and has performed in various off-Broadway plays including Discordant Duets and Counterfeit Garden.
From September 25, 2011 to January 25, 2012, Lavoisier appeared on Dirty Soap with many soap opera alumni including his then girlfriend, Farah Fath.
In 2014, Lavoisier played Eric Preston in the soap opera web series Beacon Hill. In 2015, he began starring as Hugh Cambridge in the soap opera web series Winterthorne.
In July 2015, Soap Opera Digest reported that Lavoisier had joined the cast of Days of Our Lives as Philip Kiriakis, as part of the show's fiftieth anniversary.
Personal lifeEdit
He was born John Paul Seponski in Phoenixville, Pennsylvania and attended Phoenixville High School, before going on to the University of the Arts in Philadelphia, where he studied music performance, particularly the drums.
His hobbies include tennis, skiing, golf and magic tricks. For ABC's Fan February events in 2007, he switched jobs with a fan who is a dance teacher.
Ad blocker interference detected!
Wikia is a free-to-use site that makes money from advertising. We have a modified experience for viewers using ad blockers

Wikia is not accessible if you've made further modifications. Remove the custom ad blocker rule(s) and the page will load as expected.