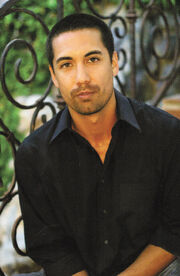 Kurt Heinzman (born October 18, 1972 in Napa, California) is an American actor of German and Mexican descent. He is best known for his role as Hector Avila on the hit Fox drama Prison Break. He was also a standout football player during his college days while attending Sacramento State University. He also stars in the video game in the Need for Speed franchise Need for Speed: Undercover as Hector Maio a street racer/car thief.
Starting October 20, 2016, he will play Guillermo on the NBC soap opera Days of Our Lives.
Ad blocker interference detected!
Wikia is a free-to-use site that makes money from advertising. We have a modified experience for viewers using ad blockers

Wikia is not accessible if you've made further modifications. Remove the custom ad blocker rule(s) and the page will load as expected.