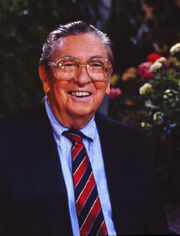 Edward Macdonald Carey (March 15, 1913 – March 21, 1994) was an American actor, best known for his role as the patriarch Dr. Tom Horton on NBC's soap opera Days of Our Lives. For almost three decades, he was the show's central cast member.
Ad blocker interference detected!
Wikia is a free-to-use site that makes money from advertising. We have a modified experience for viewers using ad blockers

Wikia is not accessible if you've made further modifications. Remove the custom ad blocker rule(s) and the page will load as expected.