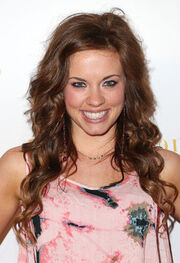 Molly Kathleen Burnett (born April 23, 1988) is an American actress and singer. She previously portrayed the character of Melanie Jonas on the NBC soap opera Days of Our Lives.
Personal lifeEdit
Burnett was born in Littleton, Colorado. She has participated in school plays and musicals during her upbringing in Colorado, and attended Wagner College on Staten Island, New York for two years.
Burnett has always been interested in performing arts, ever since she belted out a song in the car at age three, to the shock of her parents. As she grew up, she joined the Denver theater community, taking on roles such as Hermia in A Midsummer Night's Dream, Mayzie in Seussical, Dotty in Noises Off, and as the lead character in the musical Annie.[citation needed]
In high school, she was not just the homecoming princess, she also joined her school's speech and debate team, where she competed in the humorous interpretation division and eventually went on to place at the national tournament.
Burnett was also a member of her school's elite jazz ensemble and was chosen to perform in the Colorado All-State Choir, the All-State Choir and the National Honor Choir in Los Angeles. Molly graduated with honors from high school and moved to New York City, where she attended Wagner College on Staten Island. Although her heart was in NYC, she realized that her dreams of acting in film and television would ultimately take her to Los Angeles.
She landed the Days of Our Lives role within a year of moving to Los Angeles. She had a small guest-starring role on the Good Luck Charlie episode called "Boys Meet Girls" in June 2010, as Madison, PJ Duncan's crush. She has a brother, Will and a father, David. Her mother, Katie, died of a lung illness on December 7, 2011.
In character as Amanda James on the HBO series True Blood, Burnett performed the song "Jesus Asked Me Out Today" during the show's second season in episode "Keep This Party Going". Burnett also sings each year at the Days of Our Lives fan event "Day of Days" with some of her fellow co-stars.