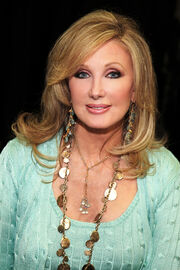 Morgan Fairchild (born Patsy Ann McClenny; February 3, 1950) is an American actress. She achieved prominence during the late 1970s and early 1980s with continuing roles in several television series, in which she usually conveyed a glamorous image.
Fairchild began her career on the CBS daytime soap opera Search for Tomorrow as Jennifer Pace from 1973 to 1977. In 1978, she appeared on the primetime soap opera Dallas as the first actress to portray Jenna Wade, before taking a lead role on the NBC series Flamingo Road in 1980 (for which she was nominated for a Golden Globe Award for Best Actress – Television Series Drama). In 1984, she co-starred on ABC's short-lived television drama Paper Dolls, and then appeared on Falcon Crest as attorney Jordan Roberts from 1985 to 1986. Fairchild has also performed in theater and played guest roles in television comedies, including Murphy Brown (for which she was nominated for a Primetime Emmy Award for Outstanding Guest Actress in a Comedy Series), Roseanne, Cybill, and Friends. She is a board member of SAG-AFTRA.
In 2017 it was announced that she would join the cast of the NBC soap opera Days of Our Lives as Anjelica Deveraux.
Ad blocker interference detected!
Wikia is a free-to-use site that makes money from advertising. We have a modified experience for viewers using ad blockers

Wikia is not accessible if you've made further modifications. Remove the custom ad blocker rule(s) and the page will load as expected.