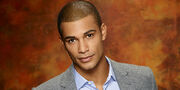 Nathan Owens is an American model and actor. He is perhaps best known for his roles as the second incarnation of Cameron Davis on the long-running soap opera Days of Our Lives and starring role as male maid and love interest Jesse Morgan on the hit Lifetime series, Devious Maids.
Ad blocker interference detected!
Wikia is a free-to-use site that makes money from advertising. We have a modified experience for viewers using ad blockers

Wikia is not accessible if you've made further modifications. Remove the custom ad blocker rule(s) and the page will load as expected.