Nikki Wade

Renee Jones as Nikki Wade

First Appearance

July 13, 1982

Last Appearance

1983

Cause/Reason

Left Town

Portrayed by

Renee Jones (1982-1983)
Nikki Wade was an early love interest for Abe Carver, and was also played by Renee Jones.  She first appeared July 13, 1982 and last appeared in 1983.
Character History
Edit
Nikkie Wade was hired to a secretary for the Salem Police Department.  She appeared to be a normal, average girl, but actually came from an extremely wealthy and respected family.  She developed a relationship with Abe Carver, however they eventually ended things after Abe stood her up at a debutante ball to go on a drug bust.  The two had a drawn out argument over not ever knowing what the other was doing.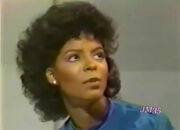 Ad blocker interference detected!
Wikia is a free-to-use site that makes money from advertising. We have a modified experience for viewers using ad blockers

Wikia is not accessible if you've made further modifications. Remove the custom ad blocker rule(s) and the page will load as expected.