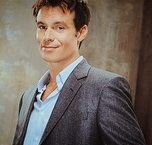 Patrick Muldoon (born William Patrick Muldoon III; September 27, 1968) is an American actor and musician.
Muldoon was the first actor to play the role of Austin Reed on Days of Our Lives, a role which he played from 1992 to 1995 and September 2011 to July 2012. He had a role in the popular teen television series Saved by the Bell in 1991. Next he played the popular villain Richard Hart, on the prime time soap opera Melrose Place, from 1995 to 1996. He was the only actor ever to have an exclusive development deal with Spelling Entertainment based on his day-time popularity. He starred in "Black Cat Run" which also marked the debut of director DJ Caruso ( Disturbia, I am Number Four ) He also played Edmund in the Patsy Rodenburg production of King Lear. He is perhaps most well known for his roles in 1997's Starship Troopers and 2007's Ice Spiders. He has starred and continues to star in many television movies a regular in many films for the Lifetime & Hallmark Channels.
In 2015 he produced and starred in "Badge of Honor" starring Martin Sheen & Mena Suvari.
He is the lead singer and the guitarist for the rock band The Sleeping Masses. In 2010, they released their music video "The Woman Is the Way" with OceanFall Agency and begun working with agent Leon Mitchell in the UK for The Sleeping Masses. The song is the end title song from the movie Powder Blue starring Jessica Biel.
Ad blocker interference detected!
Wikia is a free-to-use site that makes money from advertising. We have a modified experience for viewers using ad blockers

Wikia is not accessible if you've made further modifications. Remove the custom ad blocker rule(s) and the page will load as expected.