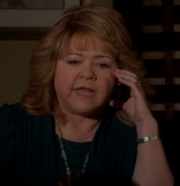 Patrika Darbo (born April 6, 1948) is an American actress.
By 1991, Darbo had featured in numerous stage, film and television credits and was contracted to the ABC network. In 1991, the Los Angeles Times reported that Darbo was undertaking a personal campaign to seek nomination for an Academy Award for Best Supporting Actress for her role in Daddy's Dyin': Who's Got the Will?, written by Del Shores.
Darbo appeared as Penny Baker on Step by Step (1991–1992). In 1994, she starred as Roseanne Barr in an NBC television movie, Roseanne and Tom: Behind the Scenes. She starred as Miss Spencer in Ruby Bridges (1998). From 1998 to 2005, Darbo played Nancy Wesley on the NBC soap opera Days of Our Lives, a role that earned her an Emmy nomination for outstanding supporting actress in 2000.
Darbo was a guest star in two Seinfeld episodes; "The Revenge" (1991) and "The Sniffing Accountant" (1993). Later, in 2010, she also guest starred in Showtime's Dexter as a landlady. Between 2010 and 2012 she portrayed the recurring role of Dr. Freed in the teen drama web series Miss Behave.
In 2012, Darbo played Grams in Mickey Matson and the Copperhead Conspiracy. In November 2012, it was announced that Darbo would reprise her role as Nancy Wesley on Days of Our Lives.
Ad blocker interference detected!
Wikia is a free-to-use site that makes money from advertising. We have a modified experience for viewers using ad blockers

Wikia is not accessible if you've made further modifications. Remove the custom ad blocker rule(s) and the page will load as expected.