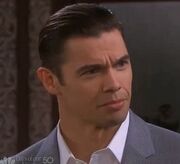 Paul Telfer (born 30 October 1977 in Paisley, Scotland) is a Scottish actor, who has lived and worked in both his native United Kingdom and the United States. Telfer portrayed the role of Xander Cook on the NBC's soap opera drama series Days of Our Lives.
In late January 2015, Telfer first played a small role as Victor Kiriakis's hit man, Damon, before being cast in the contract role of Victor's nephew Xander Cook on Days of Our Lives. He debuted on March 24, 2015 and departed on August 25, 2015.
Ad blocker interference detected!
Wikia is a free-to-use site that makes money from advertising. We have a modified experience for viewers using ad blockers

Wikia is not accessible if you've made further modifications. Remove the custom ad blocker rule(s) and the page will load as expected.