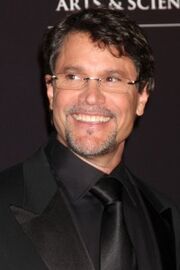 Peter Reckell Played Beauregard Aurelius "Bo" Brady on the NBC soap opera, Days of Our Lives, the youngest of the series' Brady family. Created under head-writer Margaret DePriest, the role was originated by Reckell on May 2, 1983. Reckell left the show alongside Kristian Alfonso who played Bo's wife Hope Williams Brady on April 20, 1987. Reckell would return from April 19, 1990, to January 17, 1992. Robert Kelker-Kelly stepped into the role from March 13, 1992, to July 24, 1995. Reckell returned to portray Bo on August 1, 1995.In June 2012, after much speculation, it was confirmed that Reckell would once again exit the soap.Reckell filmed his final scenes for Days of our Lives on July 24, 2012, last airing on October 30.It was announced on March 18, 2015, that Reckell has inked a deal to return for the show's fiftieth anniversary, airing on August 28, 2015.
Ad blocker interference detected!
Wikia is a free-to-use site that makes money from advertising. We have a modified experience for viewers using ad blockers

Wikia is not accessible if you've made further modifications. Remove the custom ad blocker rule(s) and the page will load as expected.