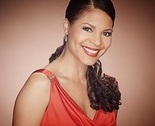 Renée Jones (born October 15, 1958) is a former American dramatic actress. Jones is best known for playing Lexie Carver on NBC's long-running soap opera Days of Our Lives, a role she began in 1993. She has been nominated five times for the NAACP Image Award for Outstanding Actress in a Daytime Drama Series for the role.
Ad blocker interference detected!
Wikia is a free-to-use site that makes money from advertising. We have a modified experience for viewers using ad blockers

Wikia is not accessible if you've made further modifications. Remove the custom ad blocker rule(s) and the page will load as expected.