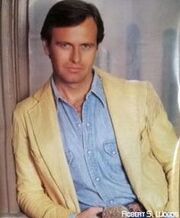 Robert Sosebee Woods (born March 13, 1948), a native of California, is an American actor best known for playing Bo Buchanan on the ABC soap One Life to Live, a role for which he won a 1983 Daytime Emmy Award for Lead Actor.
Woods began portraying Bo Buchanan – a Vietnam War veteran – on the ABC soap One Life to Live in 1979, winning a Daytime Emmy Award for Lead Actor in 1983. He left the series in 1986 and returned 1988, and continued the role until the series cancellation in 2012. Woods also earned Daytime Emmy nominations in 1986, 1993, 1994, 1999, and 2000, multiple Soap Opera Digest Award nominations, and four MVP trophies from Soap Opera Update.
Woods has also appeared on television series such as Roseanne, and the NBC soap opera, Days of Our Lives. He appeared in eight episodes of The Waltons, four credited as "Robert Merritt Woods" and four as "Christopher Woods."
Woods is also the voiceover in the animated TV spot for JPMorgan Chase & Co. that debuted in October 2010.
Ad blocker interference detected!
Wikia is a free-to-use site that makes money from advertising. We have a modified experience for viewers using ad blockers

Wikia is not accessible if you've made further modifications. Remove the custom ad blocker rule(s) and the page will load as expected.