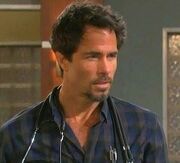 Shawn Patrick Christian (born December 18, 1965) is an American television and film actor.
After graduating from Ferris State University in Big Rapids, Michigan with a degree in Marketing (1989), he moved to Chicago to pursue an acting career. He starred in numerous stage productions and began appearing in commercials. He worked on stage with improvisational company Improv Olympic.
In 1994, he was the first male spokesman on Star Search. He landed the role of Mike Kasnoff also in 1994 on As the World Turns. In 1995 he was Nominated for "Hottest Male Star" by Soap Opera Digest magazine. He starred on the show until 1997, moving to Los Angeles in the meantime. From 1998 through 1999 he also had a recurring role in The WB television series Charmed as Josh, the love interest of Piper Halliwell, played by Holly Marie Combs. He also landed the role of Johnny Durant on WB's Summerland. Although the show was a hit the first season, it failed to garner the same attention the second season. He acted with his stepdaughter, Taylor Cole. In February 2008 it was reported that he was cast as doctor, and specialist Daniel Jonas on Days of Our Lives.
On the roster of an NBAE basketball team. For the 2007/2008 season he played for the Miami Heat with teammates Jay Harrington. He married Deborah Quinn on May 18, 1996 and they have a son Kameron, born in June 2000, they met while both were models auditioning for a print ad in Chicago, in 1991.
Ad blocker interference detected!
Wikia is a free-to-use site that makes money from advertising. We have a modified experience for viewers using ad blockers

Wikia is not accessible if you've made further modifications. Remove the custom ad blocker rule(s) and the page will load as expected.