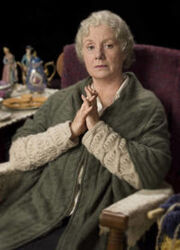 Shirley Mae Jones (born March 31, 1934) is an American actress and singer of stage, film and television. In her six decades of show business, she has starred as wholesome characters in a number of well-known musical films, such as Oklahoma! (1955), Carousel (1956), and The Music Man (1962). She won the Academy Award for Best Supporting Actress for playing a vengeful prostitute in Elmer Gantry (1960). She played the lead role of Shirley Partridge, the widowed mother of five children, in the musical situation-comedy television series The Partridge Family (1970–74), which co-starred her real-life stepson David Cassidy, son of Jack Cassidy.
Jones appeared as Colleen Brady on the NBC soap opera Days of Our Lives in 2008.
Ad blocker interference detected!
Wikia is a free-to-use site that makes money from advertising. We have a modified experience for viewers using ad blockers

Wikia is not accessible if you've made further modifications. Remove the custom ad blocker rule(s) and the page will load as expected.