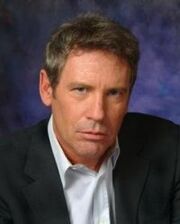 Steve Blackwood (born May 13, 1956) is an American actor. He joined the show Days of Our Lives in 1997 in the recurring role of Bart Beiderbecke. He portrayed Henry Gein in the 2000 film, In the Light of the Moon. Finally, in early 2005, Blackwood was offered a contract to continue in the role. Although he was under contract with the show, because his bosses on the show were either dead or in hiding most of the time, he was rarely seen. Blackwood returned to Days on May 31, 2007, after being away from the show for nearly two years. However, on August 3, 2007, he left the show after his character Bart was caught in the crossfire of a sword fight between Andre and Tony Dimera (both played by Thaao Penghlis).
Ad blocker interference detected!
Wikia is a free-to-use site that makes money from advertising. We have a modified experience for viewers using ad blockers

Wikia is not accessible if you've made further modifications. Remove the custom ad blocker rule(s) and the page will load as expected.