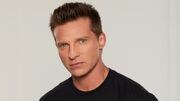 Jack Stephen "Steve" Burton (born June 28, 1970) is an American actor best known for his portrayal of Jason Morgan on General Hospital from 1991 to 2000, briefly in 2001, and from 2002 to 2012. He also voiced the character of Cloud Strife in a wide range of Square Enix products, including Final Fantasy VII: Advent Children and the Kingdom Hearts series. He currently plays the role of Dylan McAvoy on the CBS soap opera, The Young and the Restless. He was also on Days of Our Lives as Harris Michaels in 1988.
Ad blocker interference detected!
Wikia is a free-to-use site that makes money from advertising. We have a modified experience for viewers using ad blockers

Wikia is not accessible if you've made further modifications. Remove the custom ad blocker rule(s) and the page will load as expected.