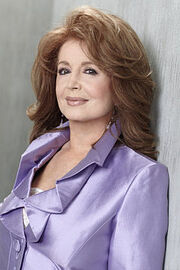 Suzanne Rogers (born Suzanne Crumpler on July 9, 1944 in Colonial Heights, Virginia) is an Emmy Award winning American dramatic actress. Rogers's stage name was inspired by Hollywood star Ginger Rogers. Miss Rogers is best known for playing Maggie Horton, a role she originated in 1973 on NBC's long-running dramatic serial Days of our Lives. She has played Maggie Horton on the program for over 38 years and is the longest serving cast member on contract with the show.
A former Rockette, Her character was killed off in 2003, the third victim of the Salem Stalker story arc. The storyline was controversial, and resulted in the firing of nine veteran actors over the course of a year. Eventually, executive producer Ken Corday rehired all of the fired actors with new contracts. The storyline was explained as being a hoax. Rogers is the only current cast member on Days to have won an Emmy in a competitive category.
Rogers was diagnosed with the rare muscle disease myasthenia gravis in 1984, but is currently in remission. Later, Rogers insisted that her character, Maggie, be diagnosed with the same disease on the show, in order to educate viewers.
Married and divorced once, to actor Sam Groom, Rogers resides in Studio City, California.
Ad blocker interference detected!
Wikia is a free-to-use site that makes money from advertising. We have a modified experience for viewers using ad blockers

Wikia is not accessible if you've made further modifications. Remove the custom ad blocker rule(s) and the page will load as expected.