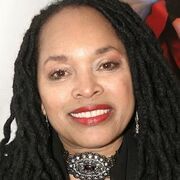 Tina Yvonne Andrews (born April 23, 1951) is an American actress, television producer, screenwriter, author and playwright. She is known for writing the TV mini-series, Sally Hemings: An American Scandal (2000), which was the first time that the Jefferson-Hemings relationship had been explored on TV, and with Hemings portrayed as a fully realized woman. In 2001, Andrews was the first African American to win the Writers Guild of America award for Original Long Form, for her script for this mini-series. Andrews had earlier explored her interest in Hemings with a play, The Mistress of Monticello, which was read at a workshop in Chicago in 1985.
Biography
Edit
Tina Yvonne Andrews was born and raised in Chicago, Illinois. She attended New York University, where her major studies were in Drama.
She spent many years acting in such series as Days of Our Lives, where she played the character Valerie Grant from 1975 to 1977. Her character was part of the first interracial romance shown on daytime television. She also acted in the influential TV mini-series, Roots (1977), as Aurelia, the girlfriend of the character Kunta Kinte.
From this role, she met and became professional partners with Alex Haley, the author of the book on which it was based and the screenplay for the series. Haley hired Andrews to work with him on the miniseries Alex Haley's Great Men of African Descent, which aired on PBS. Haley also mentored Andrews' literary work.
Andrews is married to Stephen Gaines, an award-winning producer in theatre, and documentary filmmaker.
Ad blocker interference detected!
Wikia is a free-to-use site that makes money from advertising. We have a modified experience for viewers using ad blockers

Wikia is not accessible if you've made further modifications. Remove the custom ad blocker rule(s) and the page will load as expected.