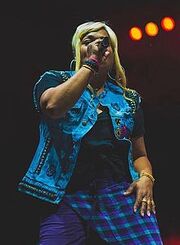 Tionne Tenese Watkins (born April 26, 1970), better known by her stage name T-Boz, is an American singer, songwriter, model, dancer, actress, author, and executive producer. Born in Des Moines, Iowa, Watkins rose to fame in the early 1990s as the lead singer of the R&B/hip hop girl-group TLC. She has won five Grammy Awards for her work with TLC.
Ad blocker interference detected!
Wikia is a free-to-use site that makes money from advertising. We have a modified experience for viewers using ad blockers

Wikia is not accessible if you've made further modifications. Remove the custom ad blocker rule(s) and the page will load as expected.