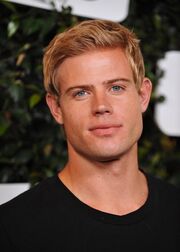 Trevor Donovan Neubauer (born October 11, 1978) is an American model and actor. He is known for his role as Teddy Montgomery on the teen drama television series 90210.
Trevor Donovan Neubauer was born in Bishop, California and raised in Mammoth Lakes, California. He had short stints in 2007 on the NBC daytime soap Days of Our Lives as Jeremy Horton. He had a minor role in the 2009 sci-fi film Surrogates playing the Surrogate form of Tom Greer (Bruce Willis).
In June 2009, Donovan landed a recurring role on 90210 as Teddy Montgomery, first appearing on September 8, 2009. On May 20, 2010, The CW announced that he was upgraded to series regular. It was later reported that his character would come out as gay in the third season, which premiered on September 13, 2010.
In July 2011, it was reported that Donovan had been cast in a role in the Oliver Stone film Savages, released in July 2012. He had auditioned for a role that was cut but after seeing Donovan's tape, Stone wrote him a part that was not in the book. After 90210 ended, Donovan landed a recurring role in the third season of Melissa & Joey.
Ad blocker interference detected!
Wikia is a free-to-use site that makes money from advertising. We have a modified experience for viewers using ad blockers

Wikia is not accessible if you've made further modifications. Remove the custom ad blocker rule(s) and the page will load as expected.