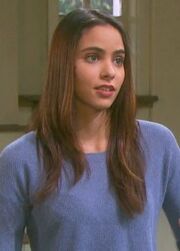 Vivian Jovanni is an actress best known for her role as Ciara Brady in the long running soap opera Days of Our Lives. Vivian Jovanni was born on August 17, 1995 in Houston Texas, to Edward and Laura Pupo. She has an older brother, Daniel, and a twin brother Christian. Her parents are Cuban immigrants of Spanish and Italian descent.

Vivian's passion for acting began to show at the age of 5, when she would voice to anyone who would listen, that she was going to be an actress someday. Unfortunately, at the age of seven, Vivian was involved in a car accident that changed the dynamics of her family
forever. The years that followed were marked by a sadness due to the mental, if not physical, separation from her twin brother who was left brain damaged after the accident. Vivian's love of acting never stopped. She would express her desire to move to Hollywood to
become an actress often during her adolescence, a desire that her parents tried to discourage.
At the age of 15 her parents finally relented and took her to a local talent agency. Vivian began to model and subsequently joined a talent competition that would finally take her to Los Angeles. At the International Modeling and Talent Association completion she won fitness model of the year, and was awarded a metal in recognition for her acting. After signing with Dreamscope Entertainment, at the age of 17, Vivian left her home and moved to LA to pursue her acting career. Alone in LA, but armed with financial support from her parents, and a fearless passion for acting, Vivian finished high school on-line, and began acting classes. She soon landed small roles in The Bay (2014) The Right Hand of God (2015), The Madness Within (2015) and the short film cousins (2015).
In May 2015 Vivian joined the cast of NBC's soap opera Days of our Lives, in which she played Ciara Brady the daughter of iconic couple Bo and Hope Brady. She exited the show in late 2017.