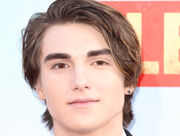 Zak Henri is the son of Tom Henri and actress Brenda Strong ("Dallas," "Desperate Housewives"). Henri began his own acting career in 2012 on "Bunheads" and has since had a number of film and television roles.
Zak Henri landed his first daytime role in January 2016 on "Days of our Lives" as troubled teen Henry.
Ad blocker interference detected!
Wikia is a free-to-use site that makes money from advertising. We have a modified experience for viewers using ad blockers

Wikia is not accessible if you've made further modifications. Remove the custom ad blocker rule(s) and the page will load as expected.